Description
Kites in great used condition with a brand new Ozone V2 Bladder and brand new bridles just installed.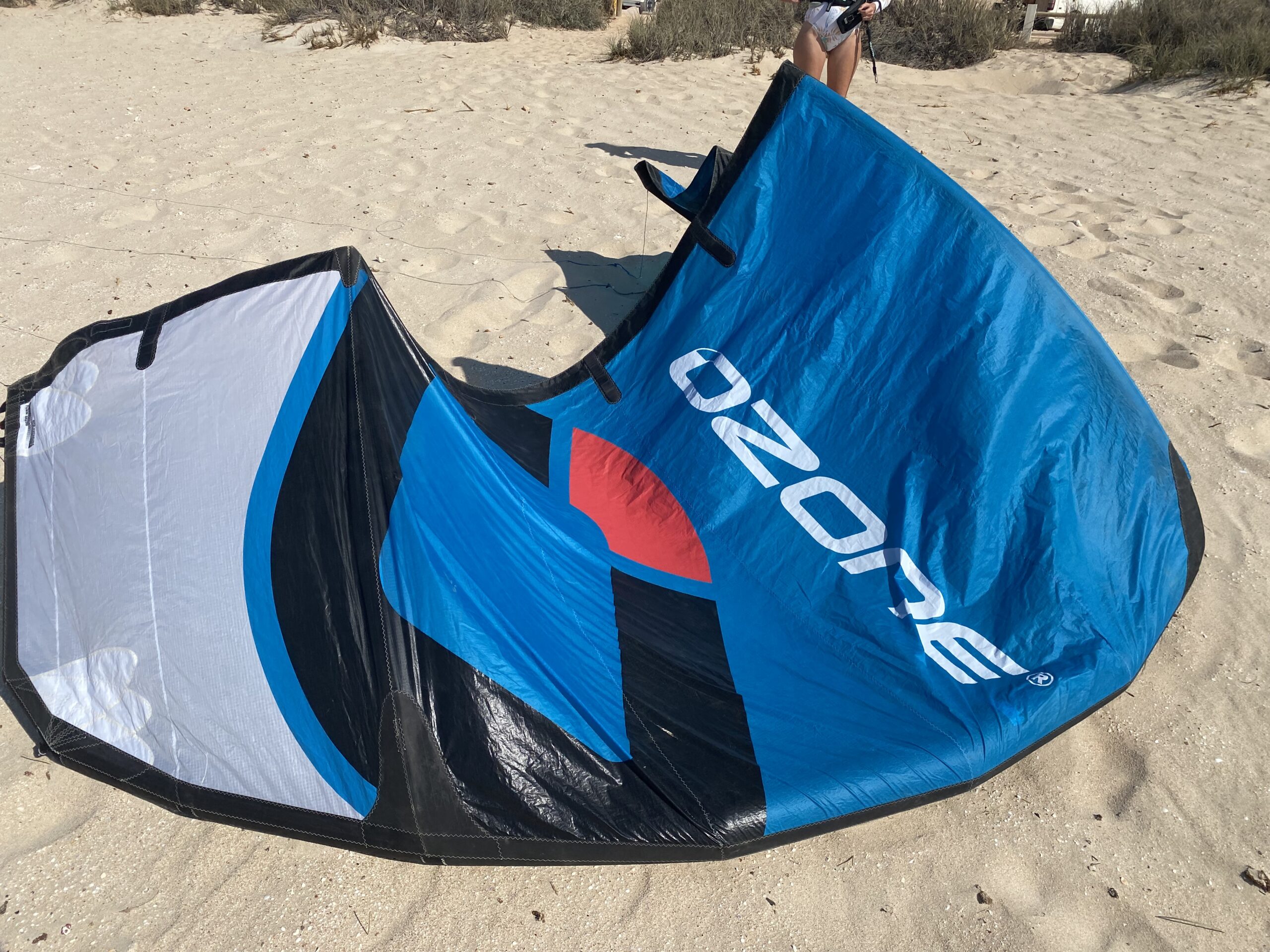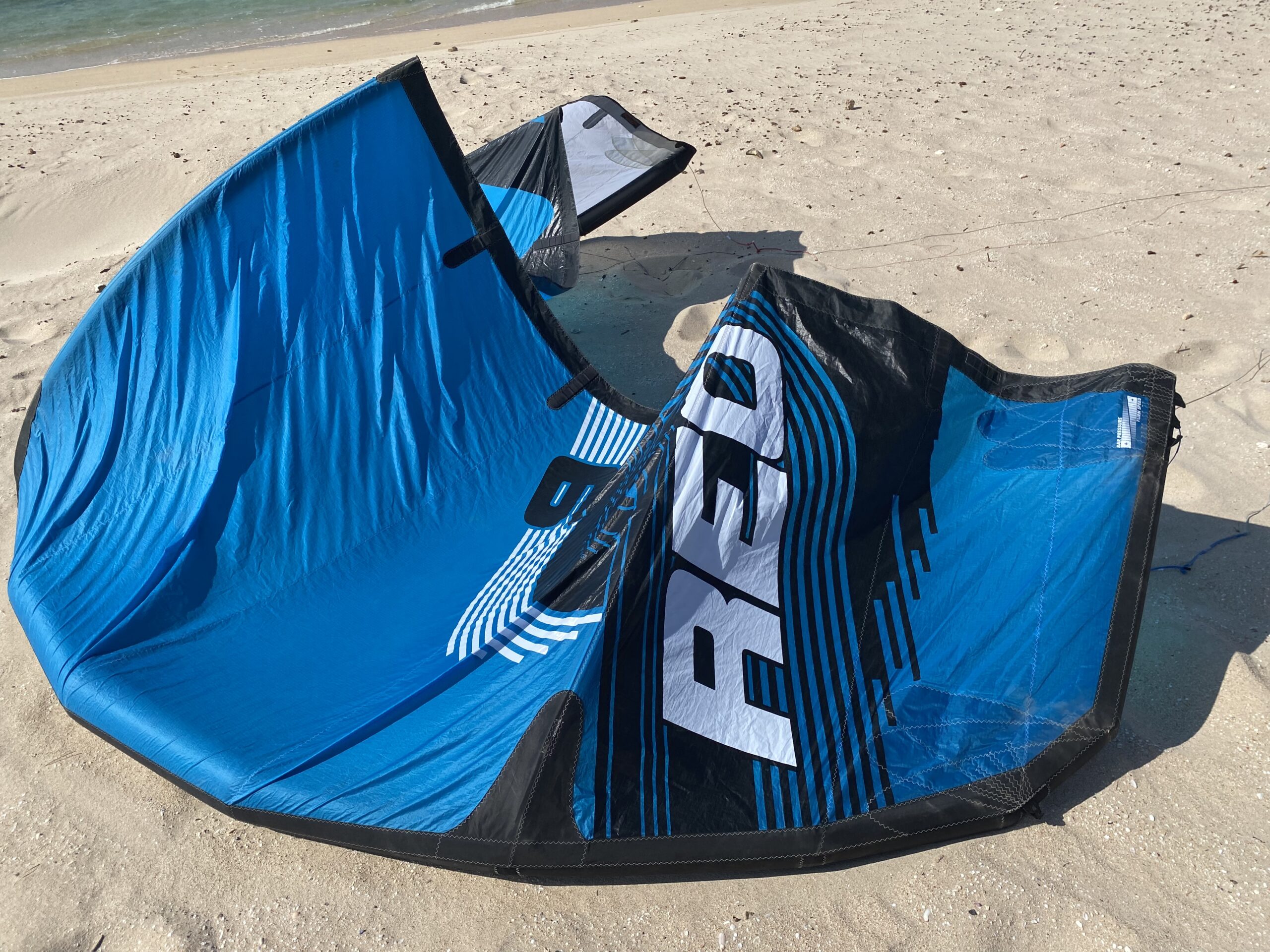 Here's What Ozone Say-
The Reo's unique flying characteristics allow you to maximize the potential of every wave, giving you the freedom to smash the lip, clear a section, carve turns or snap in the pocket. Fast direct handling and perfect drift combined with amazing de-power and the ability to absorb gusts means you can choose exactly where you want to place yourself on a wave to make that next move.
The Reo V5 features our innovative Variable Bridle Geometry (VBG). The new bridle settings extend the kites operating range, bringing another level of versatility to this already outstanding design.
SETTING 1: The way we know and love the Reo – a balanced and refined feeling from the kite with good forward speed perfect for most conditions, and excelling in cross to cross-off winds. The kite can sit further to the edge of the wind window when de-powered, drifting as you ride down the line. Setting 1 is the upper knot on the VBG Pigtails.
SETTING 2: A new feeling and characteristics – the kite sits a little further back in the wind window and tackles onshore conditions with ease. Increased bar pressure improves feeling from the kite when a wave is pushing with the wind. If you prefer a slightly heavier feel this could be the setting for you. Setting 2 is the lower knot on the VBG Pigtails.The Reo V5 features our new stronger and lighter strut construction. The wingtip shape has also been refined with our new tapered tip and slim line deflector. We understand the importance of aerodynamics and weight saving especially on a kite where drift is imperative, so every detail has been refined to be as light as possible while maintaining the strength and integrity you expect from an Ozone product.

We've maintained the quick and easy re-launch – by turning the bar or using the Re-launch Balls on the leader lines, the Reo V5 will roll over and take off from the water in an instant. This is especially helpful if you're stuck in the impact zone and need to get out of there fast!
Features:
Designed With OZ-CAD
The FUTURE is NOW – All Ozone kites and wings are designed and developed using our own highly advanced custom built CAD software. Our designers are able to work with features specifically tailored to the unique forms and structures of technical inflatable and foil kites and wings. Part of our design team is dedicated to the upgrade of the CAD code and addition of new modules and features to the program as the development of our products continues.
Teijin TechnoForce D2 & Teijin Dacron
Teijin is the world's leading supplier of polyester fabrics and sail materials for marine sports. We use the remarkably durable Teijin D2 canopy material in all our water kites and wings. Teijin D2 is the benchmark in quality with proven superiority in durability and dynamics.
We use the incredibly strong and reliable Teijin Dacron in all our water kites and wings. Dacron is used on parts requiring rigidity and stability – the Leading Edge, Struts, Wingtips, and all loaded areas with extra reinforcement for enhanced load distribution and durability.
Two Variable Bridle Geometry settings
The Reo V5 features our innovative Variable Bridle Geometry (VBG). The new bridle settings extend the kites operating range, bringing another level of versatility to this already outstanding design.
Back-line trimming options
Customise your handling and bar pressure with the back line bridle attachments. Closer to the Leading Edge for slower turn speed and more bar pressure, or closer to the Trailing Edge for faster turn speed and less bar pressure.
Tuned Bridle Geometry
We work extensively during our R&D process to develop the size range to feel in tune with each other. Every kite has a unique bridle layout, individually tested and fine-tuned to maximize the feeling and performance.
Anti-Flap Soft Battens
Soft Battens strategically positioned along the Trailing Edge provide canopy support and reduce flutter, enhancing kite feedback to the rider and also reducing canopy material wear.
Unique bladder construction
Our bladders are constructed in-house with advanced custom built welding machines. Double layered sections are applied to any potential wear areas.
Internal reinforcements
What's on the inside counts too – internal reinforcements for improved strength and durability; such as a Double layered Dacron + Insignia taped Leading Edge closing seam with high strength threads.
Low profile aerodynamic Scuff Pads
Leading Edge bumpers are often large and unnecessary cosmetic items. At Ozone we build our kites and wings for performance and durability using the best materials & components available. Any areas requiring scuff protection we use a lightweight durable material with superior abrasion resistance, while keeping a low profile in order to reduce drag and maintain performance.
Reinforced Trailing Edge
Double layer Teijin D2 Trailing Edge strip with an internal light weight Dyneema reinforcement – this reduces canopy wear and helps to maintain optimum Trailing Edge tension as designed. The Dyneema line also reduces any potential stretch at the Trailing Edge.
Exceptional Ozone Factory Construction
World-class construction in our own factory, using the highest quality materials and hand checked Quality Control at every step. The Ozone factory also manufactures our Paragliding and Speed Wing range; the same Quality Control processes are used across all products.
4-line Pulley-less System
No pulleys, NO problems. We design all our inflatable kites without pulleys, to inherit the unique Ozone feeling and performance across our range.
High volume inflate/deflate valve
A high volume valve makes inflation and deflation quick and easy. Pumping is a breeze thanks to the high airflow rate, while the internal seal engages to stop any air coming out under pressure. Unscrew the bottom of the valve to deflate.
Fool proof line connectors
Fool proof line connectors prevent incorrect rigging of the flying lines to the kite.
Anti-Snag line deflectors
The Anti-Snag line deflectors prevent bridles and lines from tangling around the wing tip. Safety is increased when launching with a partner and water re-launch is made easier.
Direct Connect Struts
Our Direct Connect construction method improves load distribution between the Leading Edge, Struts and Canopy. The Struts are connected directly to the Leading Edge with internal reinforcements and external webbing. This unique construction method ensures clean profiles are maintained with the optimum canopy tension.
Double Stitched Folded Seams
Sail canopy seams are stitched, folded, and then stitched again for a clean and strong connection of the panels.
Load Distribution Panels
Dacron reinforcements are used on all loaded areas for enhanced load distribution. This means all loads are spread evenly into the sail ensuring the kite flies and performs at its best.
Reinforced Leading Edge and Struts
The Leading Edge and Struts are reinforced in high stress areas to ensure the kite canopy remains in shape and performs at its best.