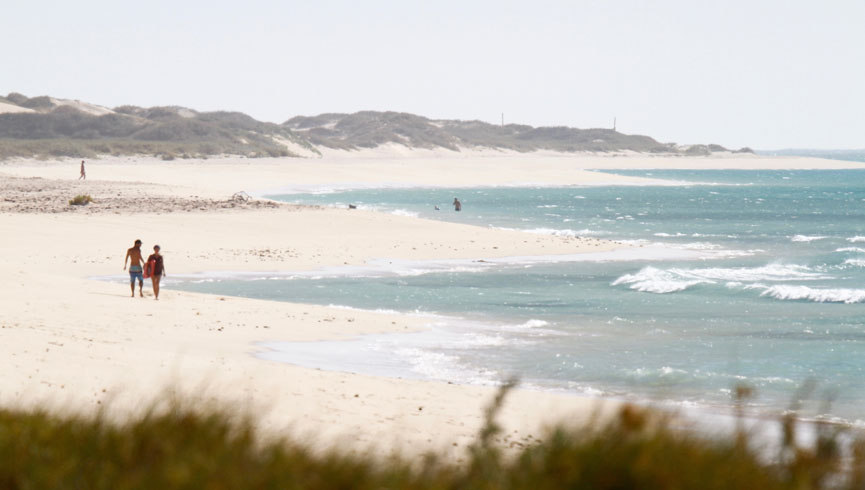 Ningaloo Reef - Earth's Last Ocean Paradises
Ningaloo Reef has gained an impressive reputation as one of Earth's last ocean paradises. The reef is 320 km long and is Australia's largest fringing coral reef and the only large reef positioned on the shores of the mainland of Australia. It can range from 150 metres to 15 kilometres offshore and encompasses a massive 5,000 square kilometres of ocean with 500 species of tropical fish and 220 species of coral in all. Ningaloo Reef is famous for swimming with whale sharks, its superb for snorkelling and diving.
During winter months, the reef is part of the migratory routes for whalesharks, manta rays and humpback whales, its home to dolphins and dugongs. The beaches of the reef are an important breeding ground of the loggerhead, green and hawksbill turtles. We have been amazed to see a huge variety of wildlife, both marine and terrestrial. The sheltered lagoons have the clearest turquoise water imaginable. Within the Ningaloo Reef Marine Park there are numerous sanctuary zones, totalling 34% of the total area, all with outstanding natural features and attractions.
SUPing to snorkel 'Un-Named' Locations
The snorkelling on offer is phenomenal. Inside the reef it is rarely more than 4 meters deep, perfect for even novice snorkelers. We have discovered some excellent 'un-named' snorkel spots that are accessible by SUP boards. Stand up Paddle Boarding in lagoons is highly recommended as it provides a stunning vantage point form which to observe the wildlife.
Cape Range National Park
The lesser known side of Ningaloo Reef, Cape Range National Park provides some truly majestic scenery. Boasting an ancient landscape thats been sculpted over the centuries, this park is home to gorges with rocky river beds linking the range to reef. The Range itself is the only uplifted Plateau in the North West Cape and measures an impressive average height of 300mtrs.
Cape Range National Park is also home to an wide variety of fauna and flora that have evolved over thousand of years to inhabit this semi arid landscape. In past trips we have encountered Emu's, the endangered Rock Wallaby, Red Kangaroos, Echidna's and more. The Park itself has over 100 different species of birds, a recorded 80 species of reptiles and approximately 630 species of Wildflowers (these generally bloom during winter).
Surfing with the Locals
There's a few surfing spots. Being located on a Cape we can always pick a surfing break to suit most wind directions. Dunes, Hunters and Wobiri are a few of the local surfing spots and each location offers a different type break. Depending on the swell and the wind we can almost always find a perfect spot to catch a wave.
When it Blows go Kitesurfing!
Exmouth can be absolutely perfect and put on a postcard like holiday... of still, calm, warm days. Offering a perfect holiday for surfing, SUPing, swimming and snorkelling. On other days Exy can really blow! The wind on the Cape can sometimes only be described as a kitesurfers dream! While everyone else is wondering what to do on a windy day we get out the kites. The winds offer a perfect kitesurfers playground and being located on a Cape, Exmouth can get really windy.
Loads to do while on Holiday
The Park is home to some truly spectacular walking trails such as Charles Knife Canyon, Shot Hole Canyon and Mandu Mandu Gorge Walk. These can find you walking along dry river beds at the bottom of stunning cliffs or winding up to the very peak of the range for impressive views.