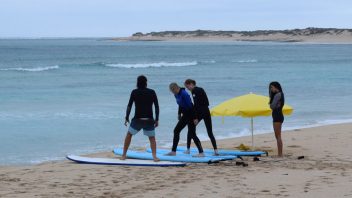 Like to learn how to surf? Book a lesson or checkout our surf shop. We also hire out boards and offer repairs.
Lets go Surfing!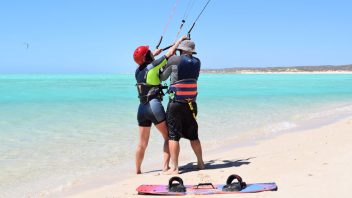 Exmouth is perfect for a kitesurfing. Book a kite lessons or kite clinic, shop or hire kite gear, or receive kite repairs.
Lets go Kitesurfing!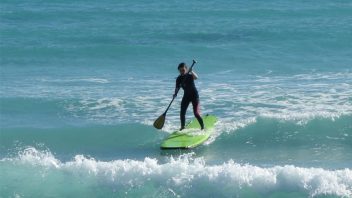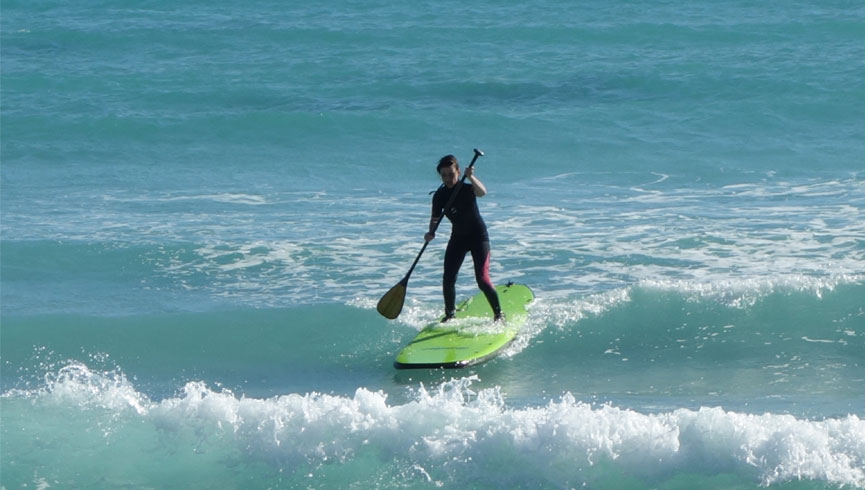 Stand Up Paddle Boarding is for all ages & abilities. Book a lesson or clinic, hire a SUP, or shop for SUP gear & repairs.
Lets go SUPing!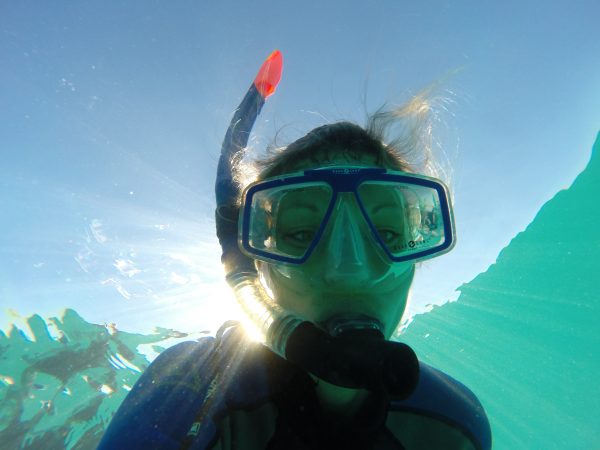 We stock a range of good condition, near new surfboards for hire, SUP boards for hire & snorkelling sets for hire, so you can hit the beaches and reefs of the Ningaloo.
We even have westsuits for hire as well as rash vests and booties just in case the water is a little chilly.
You can hire our gear or a half day, daily or even a week, with cheaper pricing the longer you hire for.

CATCH YOU FOR A SUNSET SURF SESSION AT WOBIRI!
The most enjoyable surfing lessons on the West Coast
If you are interested in a Surfing Lesson, Kitesurf Lesson or Standup Paddle Board Lesson, look no further than Exmouth Surf Centre!
At ESC we offer lessons and clinics for beginners to advanced levels.
We are passionate about kitesurfing, Surfing and SUPing let us introduce you to these highly addictive sports.
---
Learn a new sport and discover why everyone loves surfing, SUPing and Kiting
Just finished a BWS kitesurfing camp hosted by Tom at Exmouth Surf Centre. They are an awesome crew, very helpful and professional instructors. And when the wind wasn't blowing showed us some amazing spots around the cape. These guys made the trip!!!
Excellent lessons from Tom at Exmouth Surf Centre. Well instructed, patient, generous. Wish we'd stayed longer. Thanks Tom
Hired a couple of surf boards through ESC. Despite it being his day off Tom sorted the boards and even lent us a roof rack. The boards where in great condition and good quality. Tom has also given me a few tips over the past year of where to kite for each wind direction. Can't recommend enough. I've seen him teach kiting on a few occasions and I'd have every confidence to recommend him.
Just had the great pleasure of a week as a student in a kite coaching course with Tom, Jana and Shannon at Exmouth Surf Centre. The coaching/clinic was directed by Ben Wilson. Tom and Jana are so generous with their time and equipment, and their willingness to go the extra mile is extraordinary. Exmouth is designed for kitesurfing and Tom knows when, where and how to get to the right spots at the right time. Thanks guys for the company, the laughs, and for sharing your local knowledge.
We welcome Naomi Mallin and Hatha Flow our ESC Yoga team this season!