Like to join a high energy & enjoyable sport or learn some new tricks? Book a kitesurfing lesson!

Book a Kitesurfing Lesson!
Have you ever wanted to learn how to kitesurf? Would you like to learn kitesurfing tricks? We can teach you!
Book a kitesurfing lesson or kite clinic with Exmouth Surf Centre and we will have you kitesurfing like a champ!
We have clinics and lessons are perfect all stages of abilities, from beginner to advanced kitesurfing.
Our fully qualified instructors will teach you the safe way to kitesurf. We will be there every step of the way to help you develop in this highly addictive sport.
Join us for a day in the wind at Exmouth!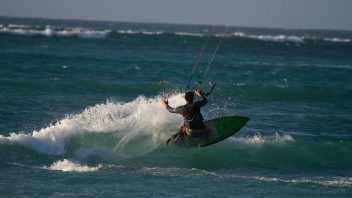 Beginners, Experienced Kiters & Wave Riders – we've got you all covered in our range of Kitesurf Camps. Join us for Kite Sessions!
Discover Kite Clinics