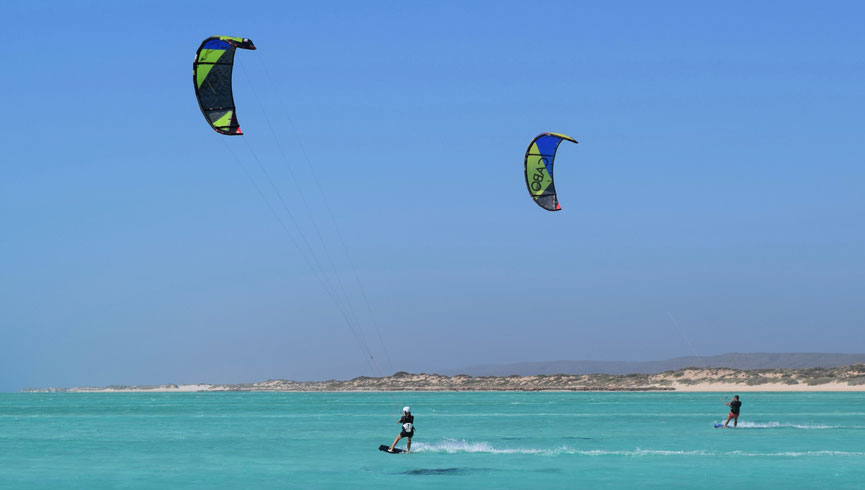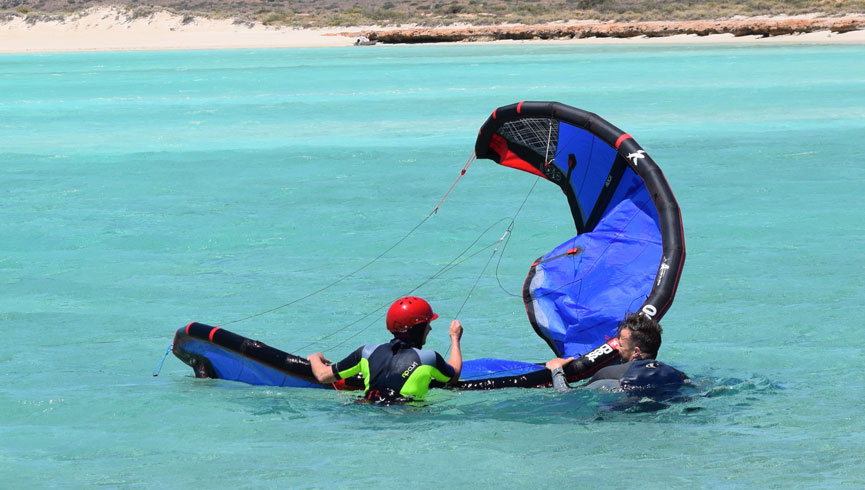 Kitesurfing is a high adrenaline driven & addictive sport! Get out on the water with us and learn to how to kitesurf. Our beginner lessons can teach people with an interest in the sport the basics and how to kite. Our more intermediate kite lessons are for fine tuning your skills or advancing on what you can do.
 Intermediate Kitesurfing Lesson
KITE LESSONS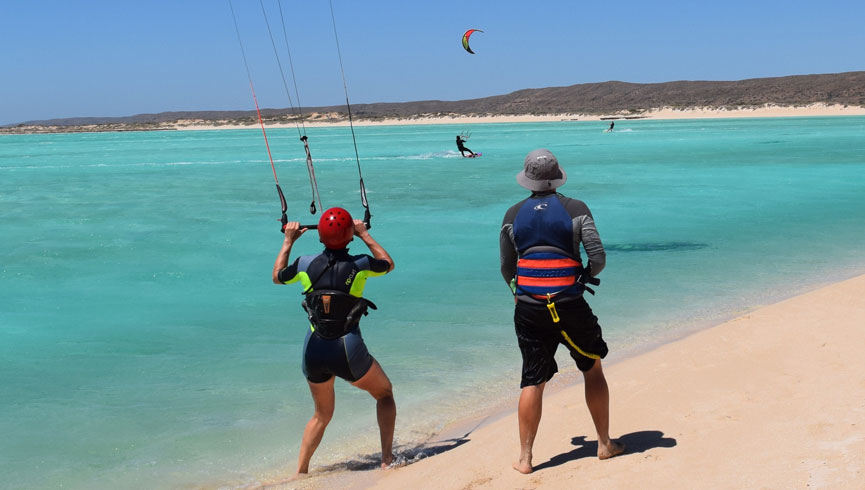 We can take you to the next level and our beginner lessons will help you develop the skills to kitesurf.
 3 Day Kitesurfing Immersion Clinic
Exmouth is the perfect location for a kitesurfing. At Exmouth Surf Centre we off kite lessons, kite gear for hire, clinics and repairs. We also have a shop with high quality kite gear for sale.
If you are interested in kitesurfing lessons, look no further than Exmouth WA as your training ground.
Warm crystal clear water and consistent winds make it the perfect location for a kite. There is no end to the Exmouth kitesurfing season and kitesurfing locations in Exmouth.
Over the summer months we get the seabreeze, a well known wind in Western Australia which promises consistent winds in the afternoons almost every day.
In the winter months we get the opposite effect of easterly winds in the mornings.
For more detailed wind forecast visit Willy Weather or Seabreeze.
100% Focus
Our instructors are all experienced and IKO (International Kiteboarding Organisation) certified. Here at Exmouth Surf Centre we believe that when you invest in kite lessons you should get the best service and value for your money.
Your instructor can focus 100% on your progression. If you would like to learn Kitesurfing with a friend, partner or family member we can provide a group lesson. Please contact us for further information on prices.
Kite your way to the next level!
We also offer a kites instruction by the hour for those who have previous experience and would like to advance their kitesurfing to the next level.
Ningaloo Reef Kitesurfing Lessons!
Exmouth and the Ningaloo coastline offer endless kitesurfing possibilities, come join us in North Western Australia's Natural playground
Here is what we offer:
 Kitesurfing Beginner & Advanced Lessons
 Clinics for Beginner & Advanced Kitesurfers
Book Kitesurfing Lessons for your next holiday to Ningaloo!