Is it Surf Session time? Get wet & learn how to surf, book surf lessons!

Want to learn to surf with surfers?
Learn to Surf in WA's most user friendly beginners beach. Wobiri beach is arguably one of the best beaches at Exmouth to catch your first waves in Australia.
Sandy bottom with waist deep water and gentle peeling waves makes our learn to surf beach ideal not just for your first time catching a wave but also to advance your surfing further. Couple this with uncrowded water and the Cape Range as a backdrop and you are in a surfing paradise.
We supply all surfing equipment needed for surfing lessons, we have selected the best possible surfboards to aid your surfing progression and ensure you can easily catch your first waves.
All you need to bring is sunscreen and water and you're ready to hit the water. Spend some time with us and we will teach you what it feels like to be a surfer!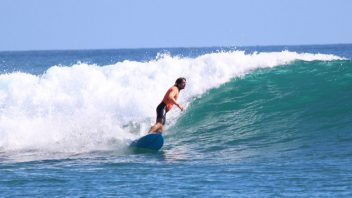 Keen to really improve your surfing? Join our experienced surfing instructors on our longer duration surf clinic where you'll get more time in …
Discover Surf Clinics