Learning to Kite Foil at ESC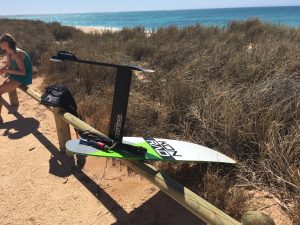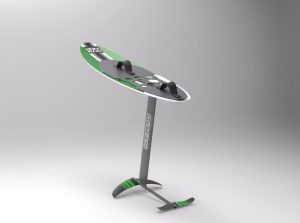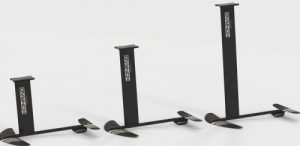 Yeeeeeeewwwww, after watching from a far and sitting firmly on the fence we finally decided to get amongst the Foil craze and see what its all about. Feeling that we were the last kiters on earth to have not really had a good look or tried foiling we took the plunge, in reality living in North Western Australia in a strong wind destination with relatively shallow waters its just not something we see that much of up here.
We had a good look around and found a foil that on paper seemed like a good option to start out with and progress onto. The Konrad Versa Foil comes with three different mast sizes, the idea being that you start with the shortest to get used to the foil and as you progress move onto the larger masts. This option is great for Exmouth and anywhere you may be worried about shallower water.
I'm a total dummy when it comes to foils so no technical jargon coming just yet, the foil comes in a really nice cary case and everything was super easy to put together and looks slick.
So to the water we go 🙂 Not strictly my first ever try on a foil, I'd had two brief try outs on a high performance race board and foil, one in very strong wind and the other again slightly overpowered, both sessions left me almost putting foiling in the 'too hard basket'.
I chose to ride the Konrad versa board strapless, coming from riding surfboards, this felt the most natural, the board comes with 3 straps which I will try out soon and report back. I'm guessing if you only ride a twin tip I would recommend the straps, learning strapless and foiling at the same time may be one challenge too many.
Rocked up to what would almost be described as a windless beach, just about enough to fly a kite so as a total newbie decided the job was on for our 17m kite, launched it and happy that it could fly took to the water. FIRST MISTAKE MADE took off and whilst the foil got up I was instantly way over powered, as soon as it was on the foil I felt too fast and out of control, crazy first experience as even with our dedicated light wind boards theres no way I would have kept ground, with the foil and the 17m I actually ended up body dragging back to the beach and walking downwind to change kites. I came to the conclusion that there will never be a need for a 17m kite in my foiling adventures.
Next try was with the 12m Eleveight RS, sooooooo much better, this gave me the chance to try and tame the beast. Each of my previous attempts had seen me doing the typical up and down motion and pretty much having no control, I was now able to think (slightly) about my foot position and try to put to practice all the tips I'd been given which is difficult as the sensation of foiling is nothing like any other kiting Ive experienced. I was happy after a few runs to play around with weight and actually super stoked to realise that I could stop the board rising with front foot pressure if I wanted to keep the board on the water. This was the first little bit of control I felt.
Half an hour in and relaxing a bit more I was happy to get a few longer runs on the foil, even attempting to make adjustments on the fly, just about enough to think 'Ive got this" before being owned and thrown back down or off the board.
The first few productive runs saw me way upwind and wandering how to get back, sounds simple but the foil seems to want to only drive upwind and with extreme efficiency. After a few failed attempts up on the foil to go downwind I found it easier with front foot pressure to keep the board on the water and downwind as I would on my surfboard, this was great fun and saw me using the whole bay, this gave me a feeling of just how much ground you could cover on a foil board. Im really excited to work out how to actually get on the foil and head downwind but for now this was good enough for the first session.
Full of (over) confidence I decided to try a few turns, didn't give it much thought and just went for it, see ya later foil, as I pointed it downwind and lost my balance kicking it away the board took off minus myself for an impressive distance, whilst there was no-one in the water kiting or otherwise this moment made me really think about the importance of having heaps of space whilst practising. After a few really messy attempts I decided to bring the board back to the water and turn as I do my surfboard, this felt pretty natural and was stoked to nail a few turns.
As the evening wore on I was getting more and more confident, at the same time the wind was dropping fast, by the end of the session the kite had to be constantly moving to stay in the sky, my head was saying get back to the beach but my over enthusiasm won which ended in a fairly decent swim with a kite that was impossible to relaunch.
One true session in and totally hooked, been to the beach three times already this morning just incase there was enough wind. Its totally got me fired up again for kitesurfing and whilst I can't see it beating a good down the line wave session it definitely adds different dynamic to kiting and brings back the from style enthusiasm I remember whilst learning to Kitesurf.
As I write this I can hear the wind just starting to come in, 10knots already maybe, see ya later I'm going foiling 🙂
If your interested in learning to Kite Foil we have the Versa Foil in stock in the shop and available for demo, get in touch to find out more.