Description
THE BASE V1 IS THE CHOICE FOR ENTRY LEVEL TO INTERMEDIATE RIDERS LOOKING FOR A FUN, CONFIDENCE INSPIRING TWIN TIP BOARD.
It is intuitive and comfortable to ride, the Base V1 will speed your progression from the first stages of learning through to getting airborne!
An optimized mix of a progressive freeride outline and a single concave bottom shape transitioning to flat towards the tips provides control and stability in all conditions.
The moderate to low rocker line facilitates early planing and makes upwind riding easy. The Base V1 offers an ultra smooth ride thanks to the forgiving medium-soft flex pattern keeping you comfortable even in choppy conditions.With the Base V1 you will have more time to spend concentrating on improving your skills, allowing you to quickly master your first turns, carves and jumps!
SIZES
133 X 40 CM / 137 X 41 CM /142 X 42 CM / 148 X 44 CM
RANGE OF USE
SUGGESTED SIZE & RIDER WEIGHT RANGE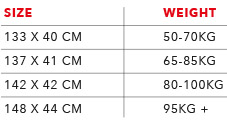 Size and weight range is indicative only based on normal riding conditions. Actual range will vary based on rider preference, skill level and strength of wind.​