Description
LONGBOARD
"..OUR DESIGNS DELIVER, COVERING ALL TERRAIN"
8'0, 8'6, 9'0 – these are super versatile, user friendly longboards. With medium entry rocker and full outline you'll find a board that glides in the small stuff and can be ridden from on the nose. Progressive surfers will find a quick midsection, slightly pulled tail, with enough release to keep the board fast and loose.  The 8'0 has a thruster set up for a more funboard feel, the 8'6 and 9'0 are 2+1 standard longboard set ups.
The 9'1 and 9'6 are more traditional noseriders, focussed on stability and trim. These are excellent for both developing and skilled longboarders aiming for traditional style surfing in smaller waves. Low rockered a wide nose, these are super stable with tons of glide. The 9'1 has a harder rail through the tail with a double concave vee for manoeuvrability. The 9'6 has softer rails and a rolled bottom for classic trim and hold.
Dimensions
Volume
8'0 x 22" x 3" *
60 ltr
8'6 x 22 1/2" x 3 1/8"
67.2 ltr
9'0 x 22 3/4" x 3 1/8"
72 ltr
9'1 x 23" x 3 1/8"

77 ltr
60-120 kg / 132-265 lbs
9'6 x 23 1/2" x 3 1/4"
88 ltr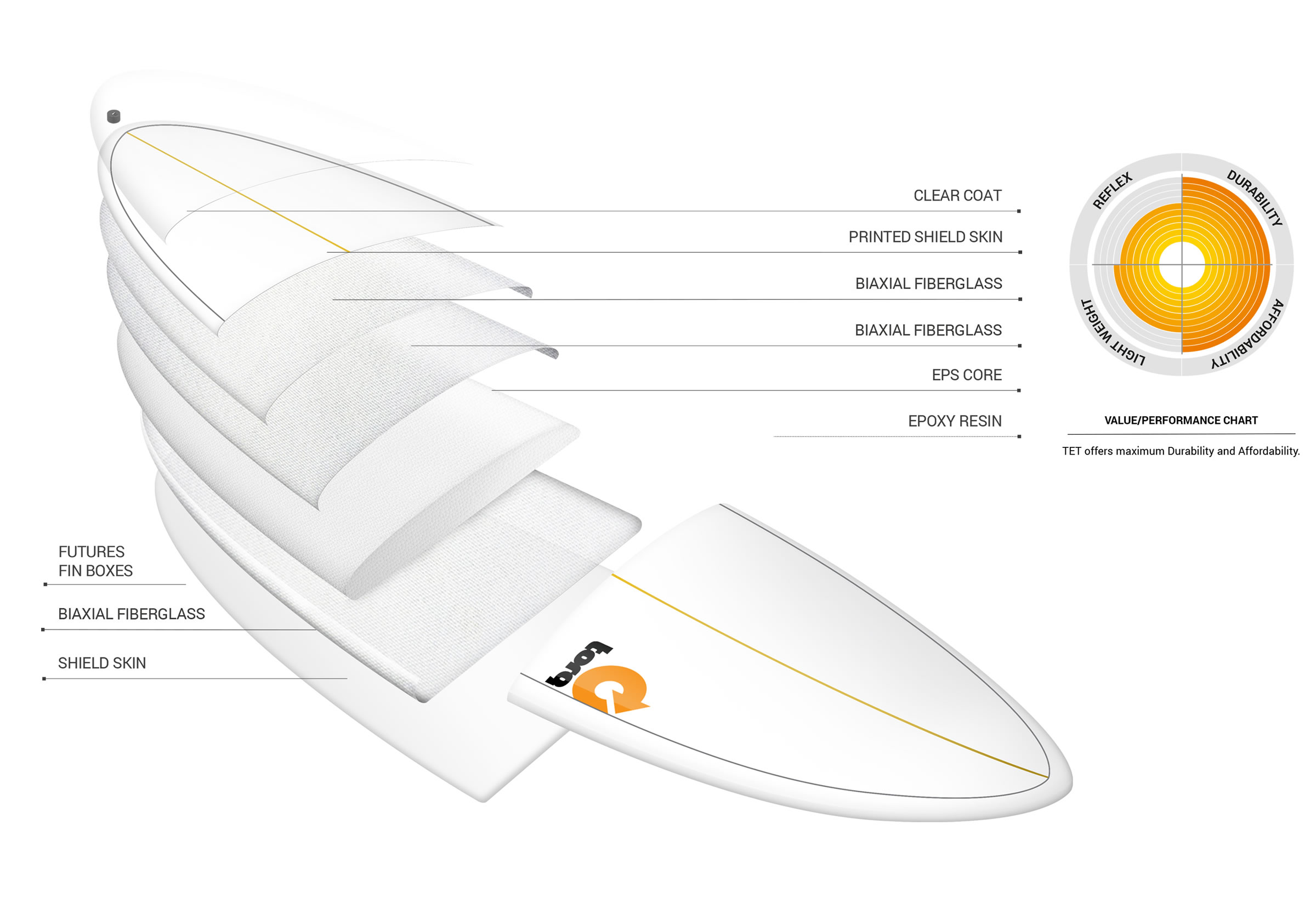 TET – TORQ EPOXY TECHNOLOGY
Torq Epoxy Technology or TET, represents a revolution in Epoxy surfboard technology. Built using the latest in EPS/Epoxy materials; the Torq Epoxy Technology combines a lightweight EPS core with Biaxial fiberglass cloth, Epoxy resin and our unique Shield Skin.
The high tech torq composite is constructed in the most advanced molds on the planet – precision CNC cut from a single aluminium block – creating the most perfect reproduction every time.
Our unique combination of advanced materials and high tech construction creates a board that performs at a high level – offering lightweight shapes with responsive flex – but also offers extraordinary durability and strength; ensuring your new torq surfboard will keep you stoked from your first wave to your last.