Description
Any wave, anywhere; this is your go-to surf performance kite.
Wave riding specific design
Improved low end and wider performance range
Transverse sail shaping for cleaner and tighter canopy
Super direct with improved response and range before luffing
Instant power, faster handling, huge de-power and insane drift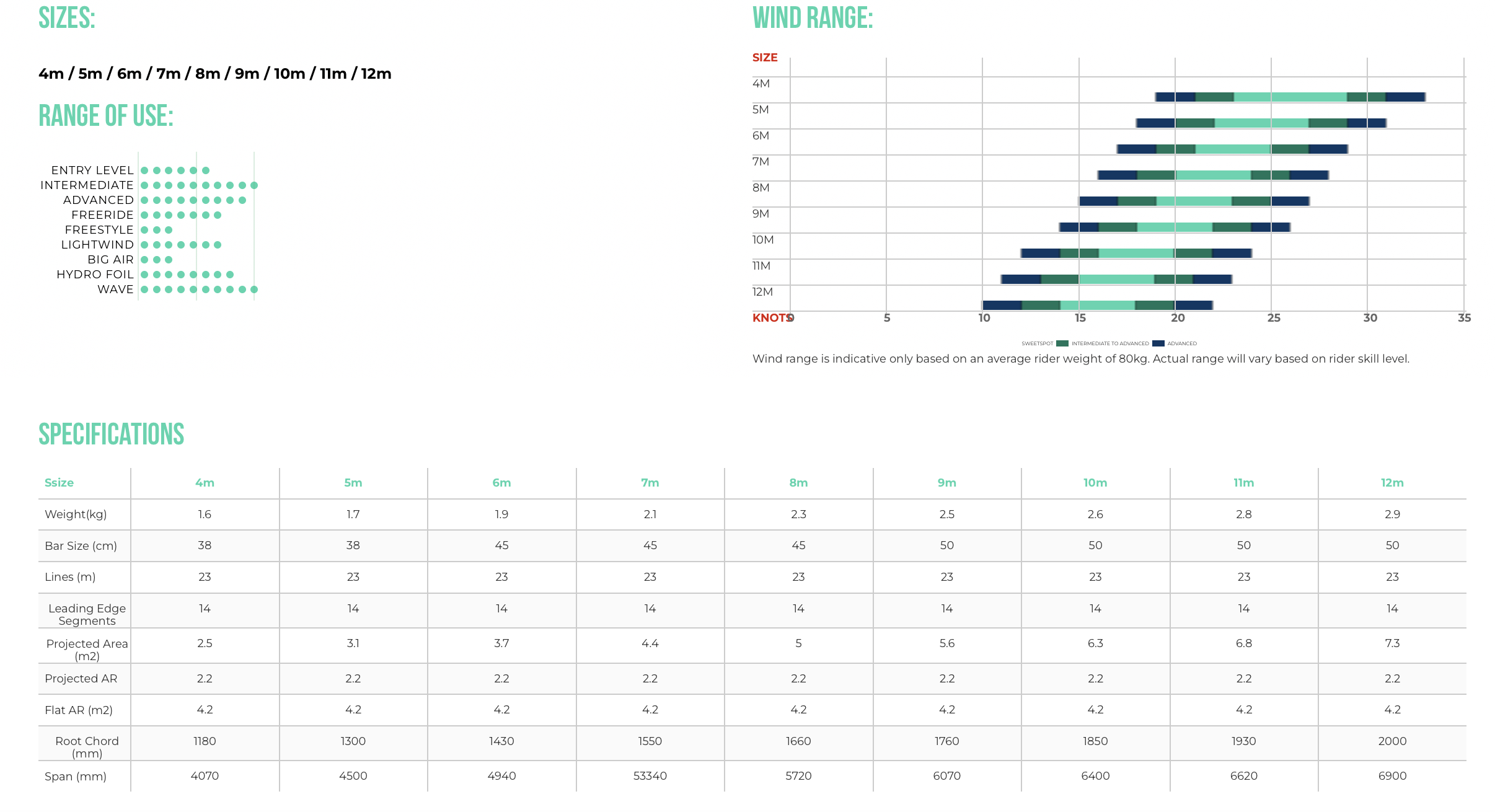 WHO IS THE REO V7 FOR?
Good intermediates and beyond. It's faster, smoother and has a bigger range. This is a kite for riders with waves on their mind. The quick turning, crisp control and excellent drift performance also works excellently for freeride foilers who need a kite that will remain highly responsive in as much of the wind window as possible.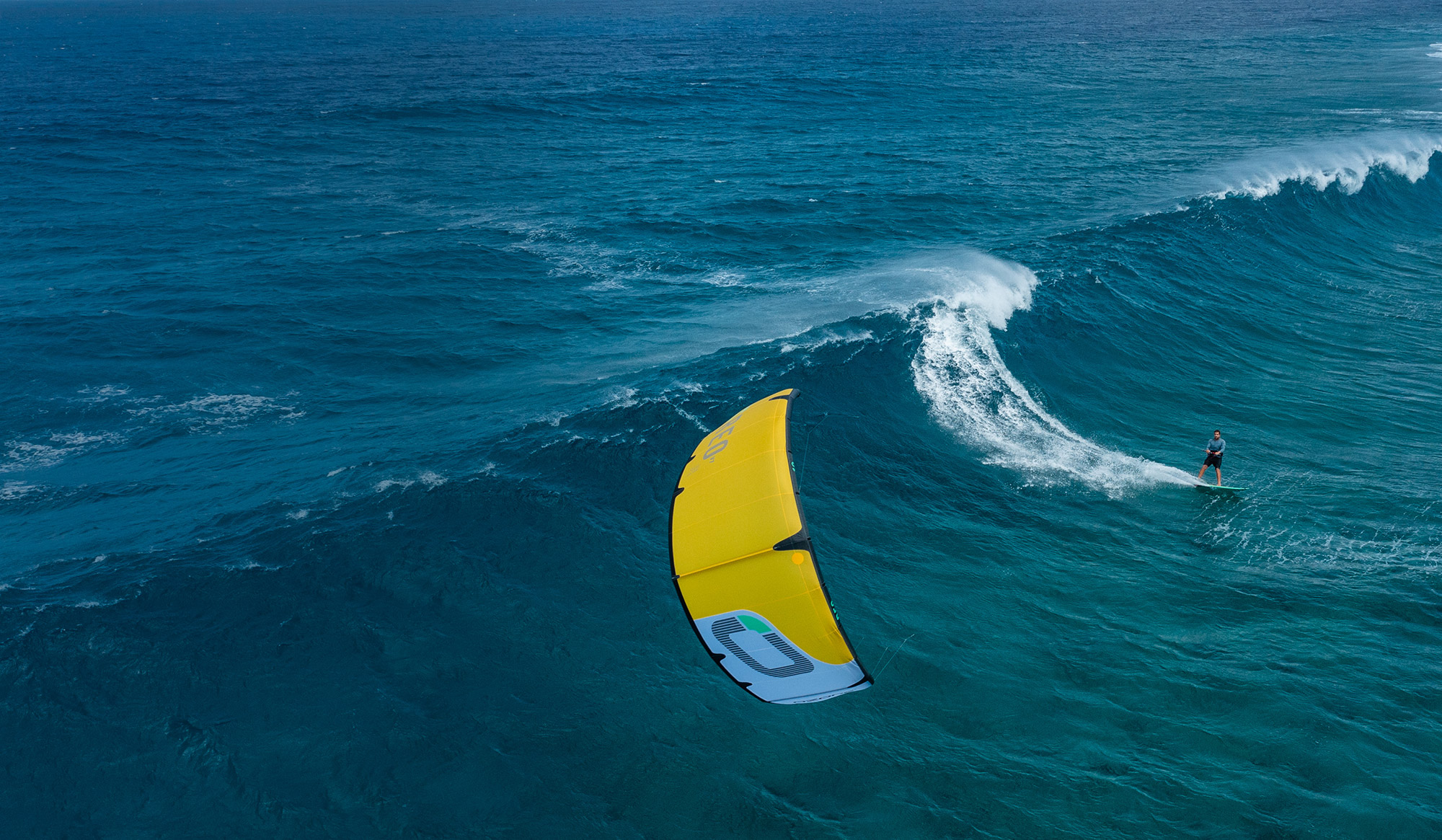 WHAT'S NEW ON THE V7?
New refined design and sail control
Transverse sail shaping results in a cleaner aerofoil for increased performance
Reduced drag and more drive through the window
Smoother handling in gusty conditions
Improved low end
Thinner bridles than on V6 for reduced parasitic drag and weight
Being more ruggedly built than the Ultra-X version, the meatier material on the V7 is better suited to riders who may regularly rig up and launch / land on more abrasive beaches. The smallest sizes may also be preferable for anyone riding in stronger wind conditions when the extra durability can add peace of mind, at which point the lighter weight materials on the Ultra-X will have less effect on overall performance.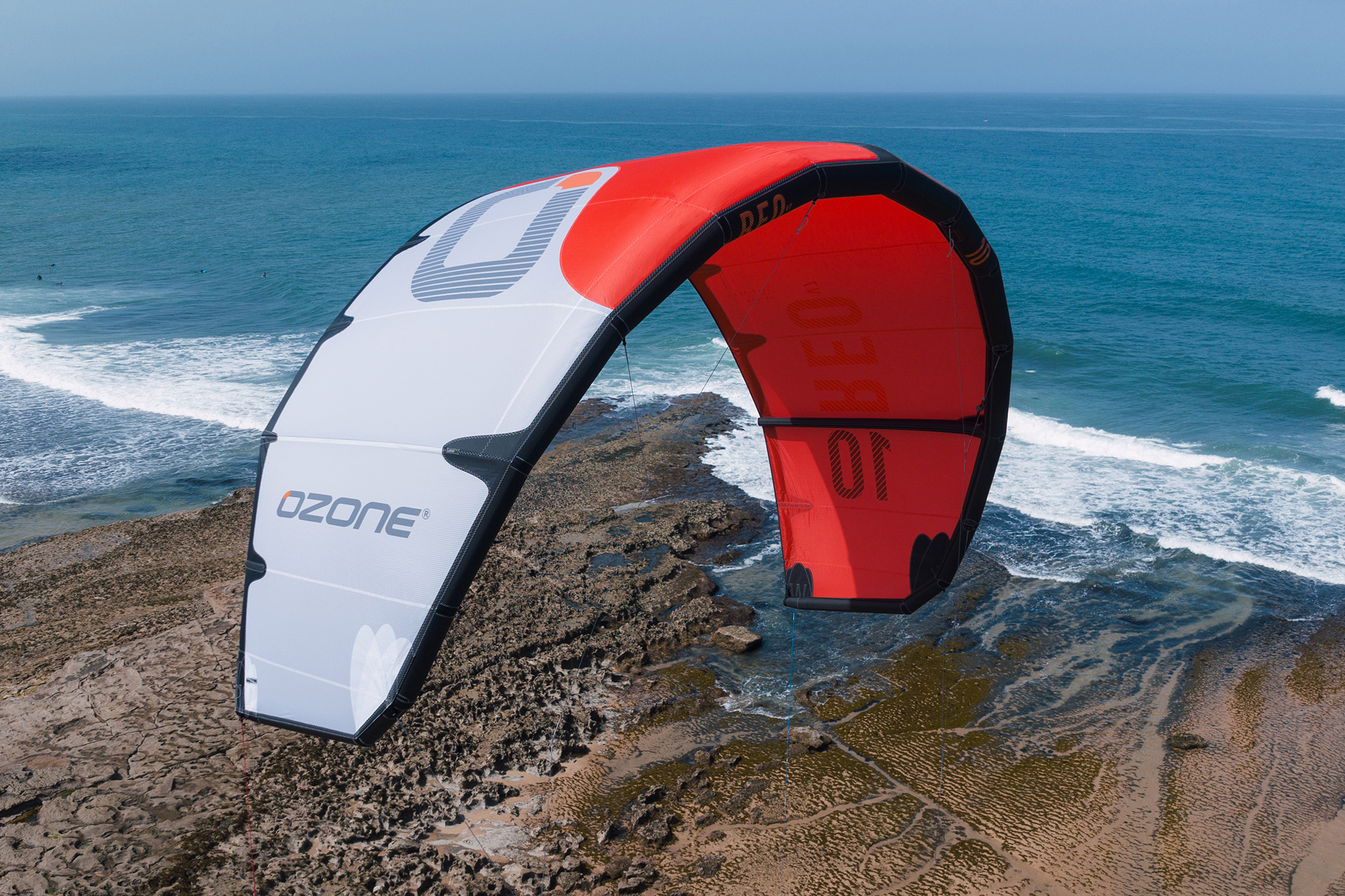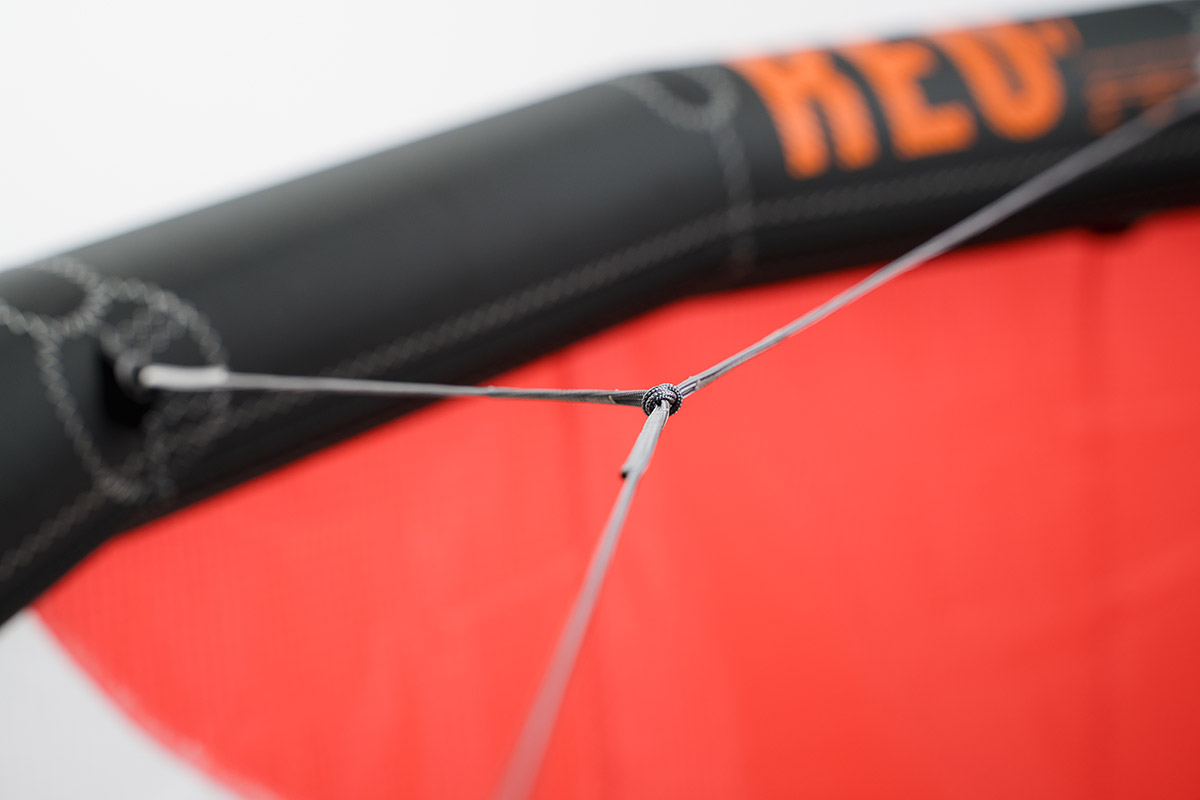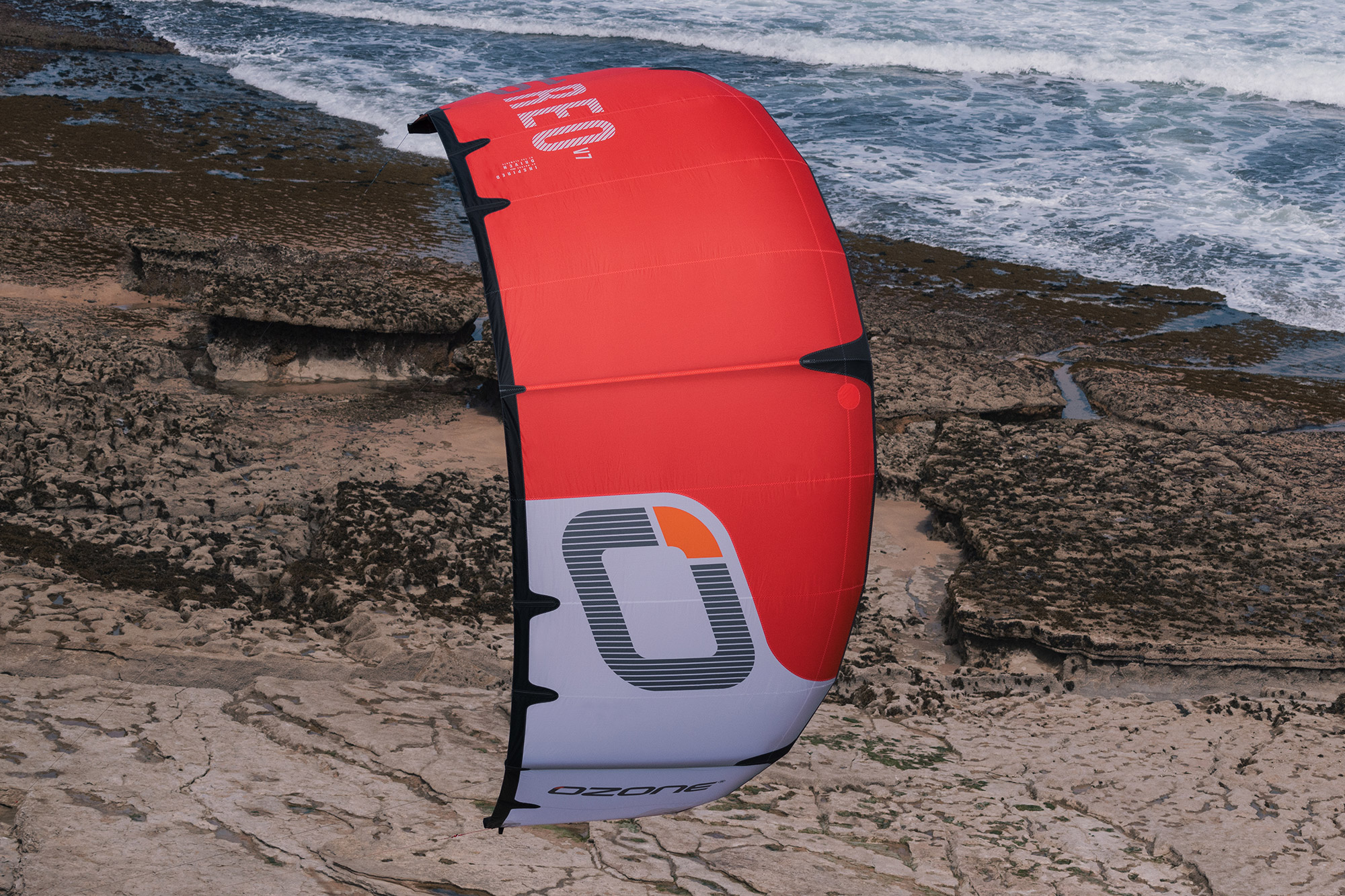 OUR TIGHTEST CANOPY YET
Searching for as tight a canopy as possible is a continuous journey. Whether you choose the V7 or the V7 Ultra-X, both models have the same panel layout. There have been many subtle tweaks to stitching lines and panels applied to these designs since the V6 model, but the biggest improvement in canopy tautness has come thanks to transverse sail shaping on the leading edge.
Take the V7 out for a session and one of the first things you'll notice is how improved your sense of sail control will feel.Applying the experience of our paragliding design colleagues, the Reo V7 features an extra seam in the sail running close to the leading edge, which allows for more true 3D shaping.
Of course each cut and any extra panel additions lead to another manufacturing process and can add more weight. The art of design is finding this perfect balance. Not only have we managed to add more profile curvature, but we've also added more strength in the high lift zone thanks to the extra seams.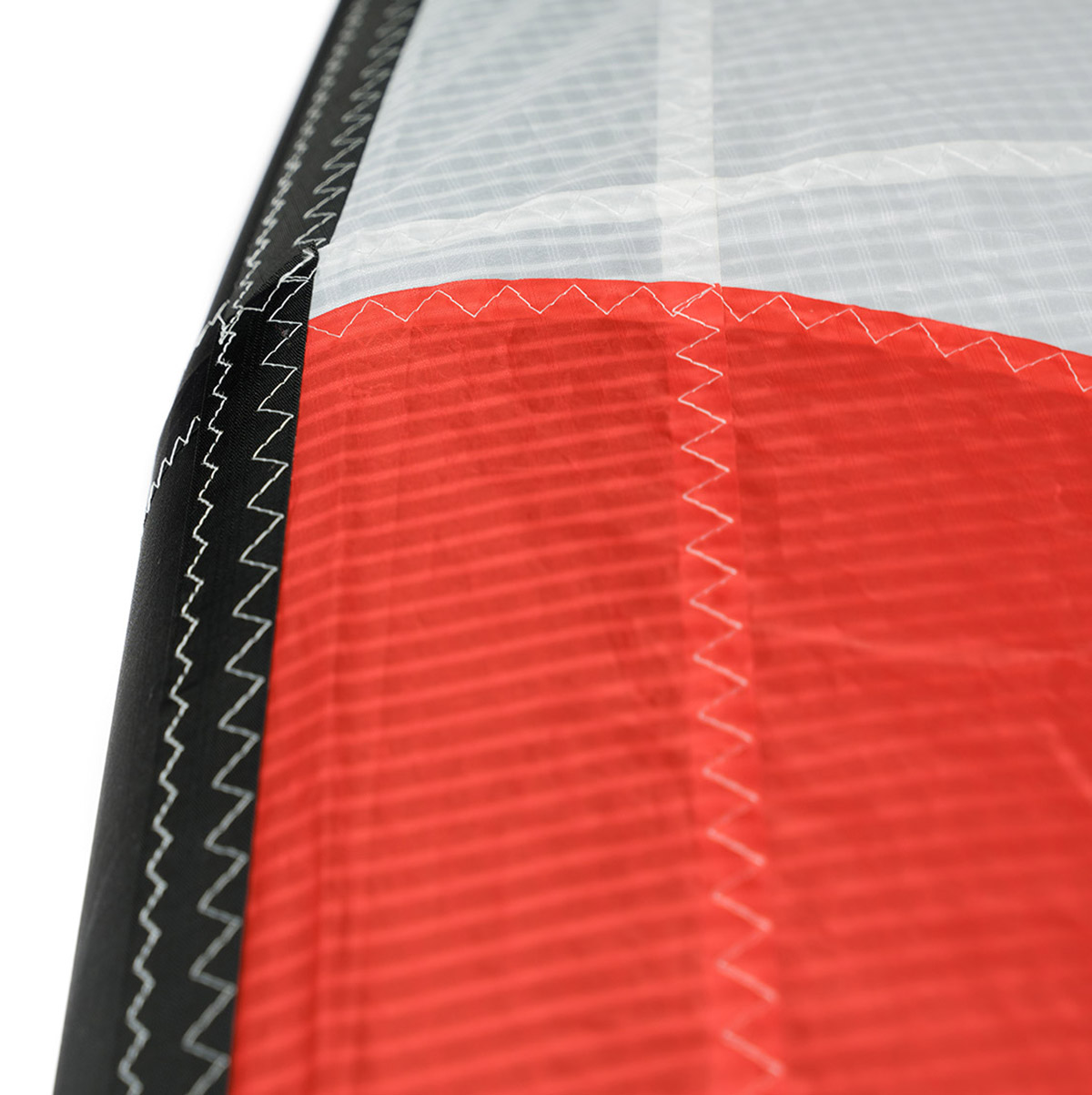 NOTHING BUT PURE PERFORMANCE
As ever, the 'Born Light: Genetically Strong' ethos is applied through every stage of manufacturing in our factory in Vietnam. Thanks to the skill and attention that goes into each and every detail on our kites, once again the Reo is just as light (if not lighter) than most other top end wave kite models on the market.
All you'll ever find on our kites is exactly what's needed to meet a rider's performance demands; nothing more, nothing less.
We don't test the Reo with twin-tips because this isn't a freeride kite and it's not made for jumping. This is a pure wave riding machine.
ORIGINAL REO DNA – WITH IMPROVED RANGE AND BETTER FEEL
The Reo V7 features an evolved combination of design features that will help your wave riding improve. Maintaining its low aspect three-strut platform, the V7 offers super fast turning response with rapid but silky smooth movement through the window and a handling sweet spot that's now even wider in its wind range.
The cleaner and tighter aerofoil has also improved the low end, which is now markedly better in the V7. Luffing later, you'll enjoy even more predictability and clean feedback from the kite across a wider range of winds before the canopy is compromised.
Of course, superb drift and float overhead remain key characteristics that have also been improved.
WHAT YOU FEEL:
Incredible pure wave performance handling
Excellent drift and reduced drag
Very crisp feel at the bar
Faster response and more range, particularly in the low end
More drive through the window
Reduced tendency to nose dive at the edge of the window when lines slacken
Later luffing means better feedback and handling across a greater wind range
Excellent stability wherever the kite is in the wind window
More feeling, more feedback, more control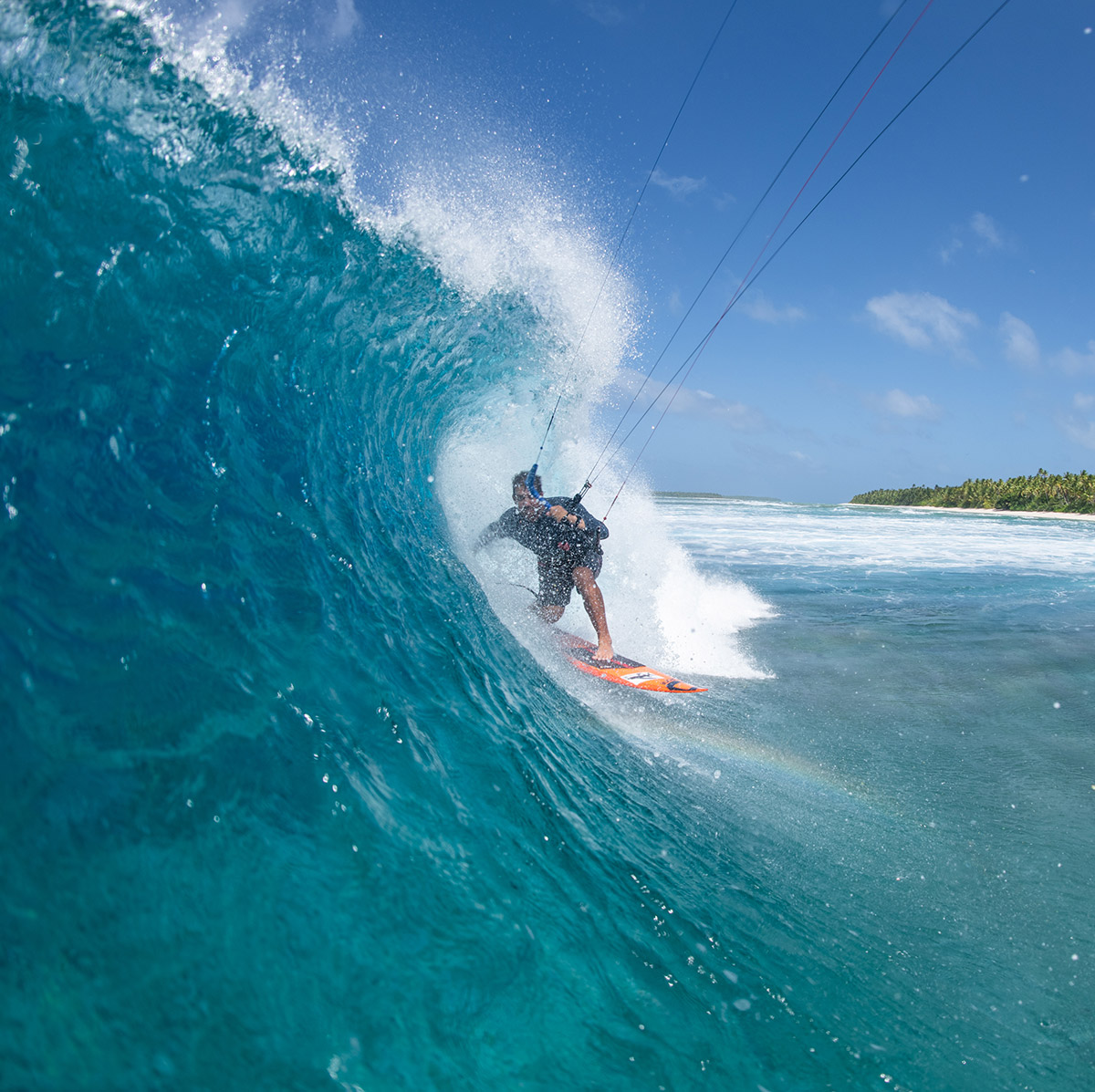 WHY YOU FEEL IT:
New refined design and sail control
Transverse sail shaping results in a cleaner aerofoil for increased performance
Improved and cleaned up aerofoil section delivers more drive through the window
Reduced drag
Improved low end
 Thinner bridles than on V6 for reduced parasitic drag and weight
Two back-line tab settings to tweak bar pressure and turning speed
Lightweight EVA anti flap battens improve overall aerodynamic flow and trailing edge finish
Thin leading edge diameter for lightest weight to rigidity ratio
Compact, low aspect planform with intricate sail shaping for fast handling and direct response
Low volume three strut design to keep weight down while maintaining maximum support for the canopy
Variable Bridle Geometry (VBG)
Quick and easy to change with no extra lines to add or remove. These bridle settings extend the kites operating range, bringing another level of versatility to this outstanding design.
Setting 1:
Offshore:
A balanced and refined feel with good forward speed perfect for most conditions, and excelling in cross-shore to offshore winds. The kite can sit further to the edge of the wind window when de-powered, drifting as you ride down the line.
The Offshore setting is the knot positioned part way up the VBG pigtail.
Setting 2:
Onshore:
The kite sits a little further back in the wind window and tackles onshore conditions with ease. Increased bar pressure improves feeling from the kite when a wave is pushing with the wind. If you prefer a slightly heavier feel this could be the setting for you.
The Onshore setting is the knot on the end of the VBG pigtail.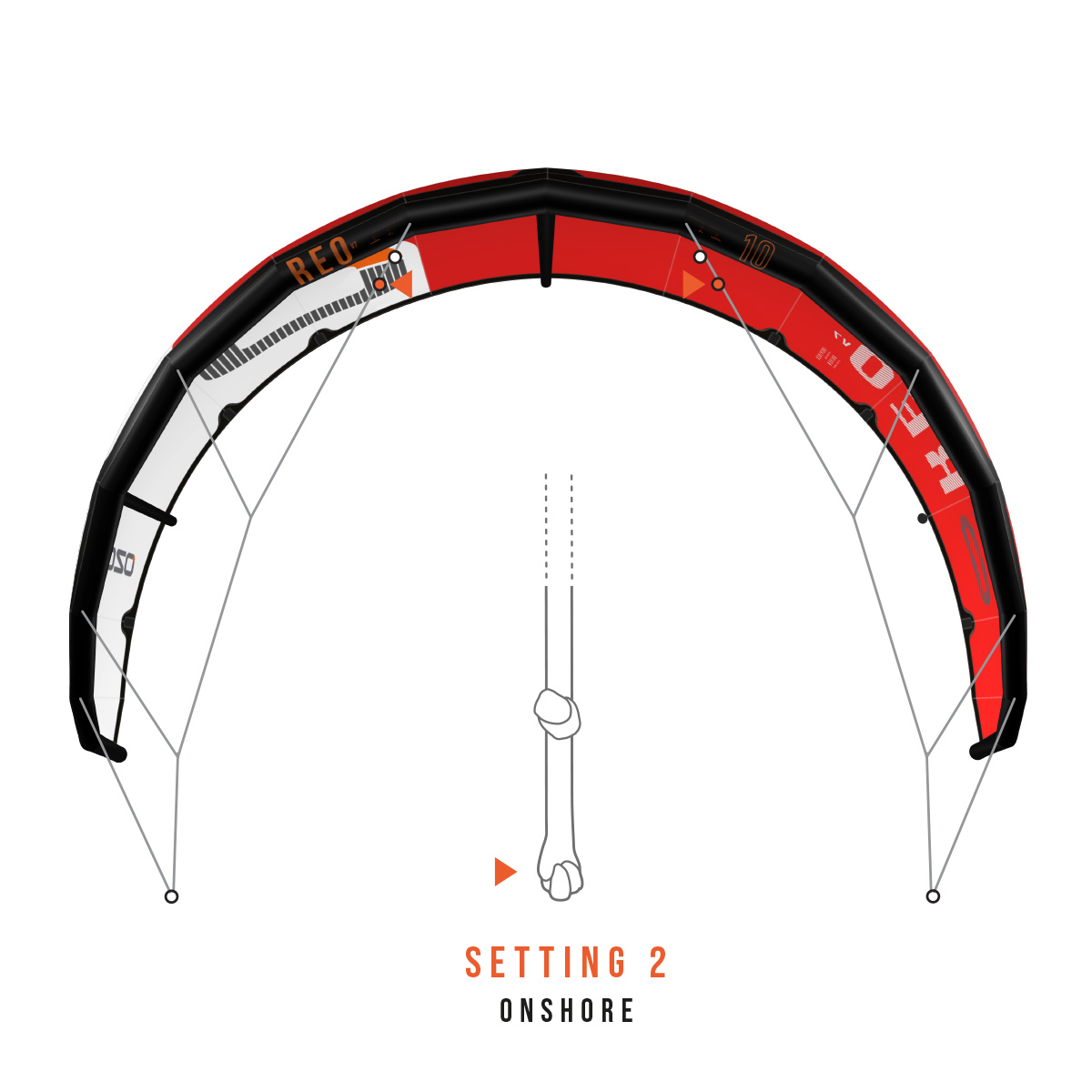 The Importance of Aerodynamics
We understand the importance of aerodynamics and weight saving especially on a kite where drift is imperative. Every detail has been refined to be as light as possible while maintaining the strength and integrity you expect from an Ozone product.
Customise Bar Pressure and Turning Speed
Un-hooked riders will feel at home on the Reo, it will fly and float in unison with your movements. Simply trim in with the cleat before unhooking, or if you prefer to ride un-hooked often we suggest adjusting the Control Systems back leader lines to the longer position. To customise bar pressure and turning speed for your personal preference use the rear line adjustment tabs on the kite.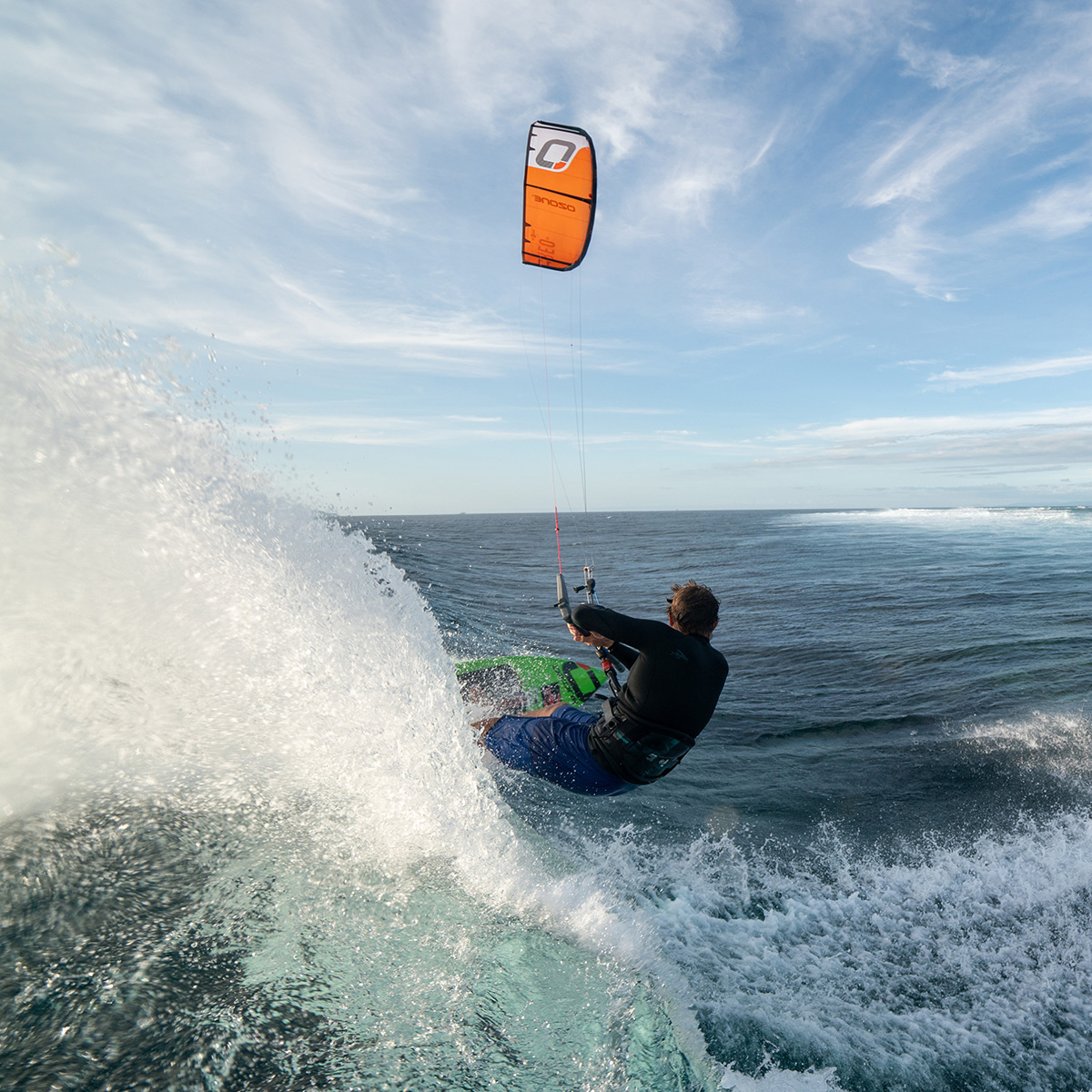 Easy Relaunch
Re-launch is quick and easy – by turning the bar or using the Re-launch Balls on the leader lines, the Reo will roll over and take off from the water in an instant. This is especially helpful if you're stuck in the impact zone and need to get out of there fast!